Hello everyone, Very much looking forward to our performance on Saturday April 8th.
Call time: 1:30pm at Wheeler Place, just behind the Civic Theatre (375 Hunter Street) in Newcastle.
It's early… we know, but it's to allow for parking, traffic, unforeseen problems! It's Easter weekend, so be aware that double demerits will apply for those driving, and traffic around Newcastle will be busy because of school holidays.
Britney has annotated a map to help with parking, public transport etc. attached at the end of this email.
Dress Code: Formal Blacks
Male and Male Identifying – Black collared shirt and black pants. Jacket is optional.
Female and female identify: can wear either shirt and pants or a black dress. No strapless dresses or shoelace straps please.
Don't forget to bring:
Instrument
Mutes
Spare reeds
A spit towel for brass players/if needed – for condensation and mute changes (this is a requirement for warm up rooms and the stage)
Please call Andrew (0431863456) or Eleanor (0481381497) on the day if there are any issues.
Our section, Open A Grade Concert Band, is "Not to start before 3:00PM" so we will moved to a warm up room before this. We are the first band to perform in this section! Here's the scheduling info from the website: https://nationalbandchampionships.com.au/index.php/the-event/schedule
Audience tickets can be purchased via the Civic Theatre's website. Tickets will allow entry across all three venues.
For family and friends not able to join us for the event, they can live stream the event through Brassbanned.com https://brassbanned.com/2023/04/03/australian-national-band-championships/
I'm sure we will find a social place to spend some time together after our performance. The adjudication will be approximately 9:30-10pm. You are certainly not expected to hang around for that! Andrew will be there and would love your company.
Get excited!! It's a brilliant program that we've been able to put together. I can't wait to show off our brilliant ensemble on a National level. Prepare well throughout the week, and stay healthy… no crazy Friday nights please! A great way to finish off the 1st part of our year!

– Andrew and Eleanor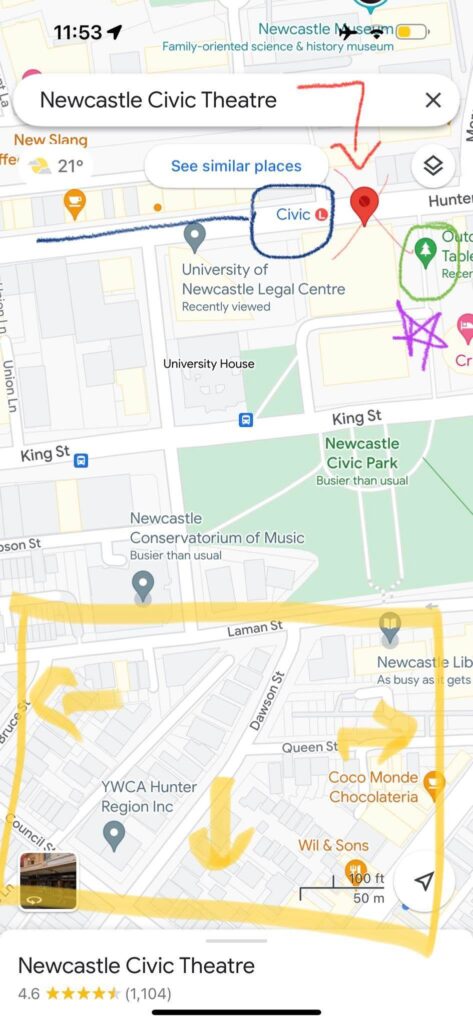 Here's a little map that might be helpful.
Yellow = street parking, there's a few other car parks in town but they're pretty pricy.
Purple star = drop off zone, anything heavy
Green circle = Wheeler Place, meeting point
Red X = Civic Centre (venue)
Blue circle/line = public transport, light rail runs from Broadmeadow so anyone getting the train up will have to swap there and get the light rail in