NSWS Concerto Competition
Join us on Saturday 21 September at 7:30pm in the Barker College Music Centre for our inaugural Concerto Competition!

FLUTE - Concertino for Flute and Band | Cecile Chaminade
TRUMPET - Solo de Concours for Solo Trumpet and Wind Ensemble | Theo Charlier arr. Laverty
EUPHONIUM - Euphonium Concerto | Vladimir Cosma
CLARINET - Clarinet Concerto | David Maslanka
PICCOLO - Concerto in C RV443 for Piccolo | Vivaldi arr. Alfred Reed
TRUMPET - Concerto for Two Trumpets | Erik Morales
OBOE - Variations on a Theme by Glinka | Nikolai Rimsky-Korsakov
SAXOPHONE - Four Pictures from New York | Roberto Molinelli

We are super excited to have John Lynch as our adjudicator.

Dr John P. Lynch, is a leading international wind band conductor. He is the Director of Bands, Wind Symphony Conductor, and Artistic Director of the professional ensemble-in-residence: Verbrugghen Ensemble at the Sydney Conservatorium of Music. He leads Australia's first graduate degrees in wind conducting. He was previously Director of Bands and Professor of Music at the University of Georgia and the University of Kansas. Other positions include those at Northwestern University and Emory University, and Artistic Director of the Northshore Concert Band, Atlanta Youth Wind Symphony, and the Greater New York Wind Symphony (founder).

He has performed throughout the United States, Canada, Europe, South America, Asia, and Australia including the 2019 World Association for Symphonic Bands and Ensembles conference in Spain with the Con Wind Symphony. Awards include The American Prize, the national Stanbury Award for outstanding conducting and teaching, New York's Big Apple Corps National Leadership in the Arts award, The University of Georgia Creative Research Medal, a Northwestern University Searle Fellow for Teaching Excellence, and elected membership in the American Bandmasters Association and Phi Beta Mu international band honor fraternity. He holds degrees from Indiana University, the Eastman School of Music and the Cincinnati College-Conservatory of Music.
SATURDAY AUGUST 10 2019
HAMMERSMITH
Gustav Holst
O MAGNUM MYSTERIUM
Lauridsen Arr. Reynolds
TETELESTAI
Andrew Boss
SUNDAY 25 NOVEMBER 2018
LINCOLNSHIRE POSY
Percy Grainger
IRISH TUNE
Percy Grainger
THE LEAVES ARE FALLING
Warren benson
SOLITARY DANCER
warren benson
sTRANGE HUMORS
John mackey
ASPHALT COCKTAIL
John Mackey
SUNDAY AUGUST 12 2018
ARMENIAN DANCES (PART 1)
Alfred Reed
SHELTERING SKY
John Mackey
MOTH
Viet Cuong
SPOON RIVER
Percy Grainger
LOST VEGAS
Michael Daugherty
something old something new
SUNDAY MARCH 18 2018
FIRST SUITE IN Eb
Gustav Holst
A lA MACHAUT
Andrew Boss

FOUR SCOTTISH DANCES
Malcolm Arnold
BLUE SHADES
Frank Ticheli
SUNDAY 3 DECEMBER 2017
CHAMBER MUSIC:
Sugar plums Dancing, Caspar Kummer (flute Ensemble)
Suite Hellenique, Pedro Iturralde (Saxophone Ensemble)
Sacred Suite: Sing To the lord, brendan collins (brass Ensemble)
Molly on the shore, Percy grainger (Clarinet ensemble)
frippery, traditional (Trombone ensemble)
O holy night, traditional arr. buddy lovett (Percussion ensemble)
CAROLS (with hornsby musical society)
deck the halls
o come all ye faithful
Angels we have heard on high
hark the herald angels sing
rudolph the red-nosed reindeer

A CHRISTMAS FESTIVAL
leroy anderson
sLEIGH RIDE
leroy anderson
a MOST WONDERFUL CHRISTMAS
Arr. Robert longfield
FESTIVE OVERTURE
Dmitri Shostakovich, arr. donald hunsberger
SUNDAY 17 SEPTERMBER 2017
SUPERMAN MARCH
John Williams arr. Paul Lavender
MOTHERSHIP
Mason Bates

OCTOBER
Eric Whitacre
YIDDISH DANCES
Adam Gorb
CAPRICCIO
Warren Barker
SUNDAY 4 JUNE 2017
AFRICAN SYMPHONY
Van McCoy arr. Naohiro Iwai
SHEPHERD'S HEY
Percy Grainger
VARIATIONS ON A KOREAN FOLKSONG
John Barnes Chance
DANCE OF THE NEW WORLD
Dana Wilson
SUITE FROM HYMN OF THE HIGHLANDS
Philip Sparke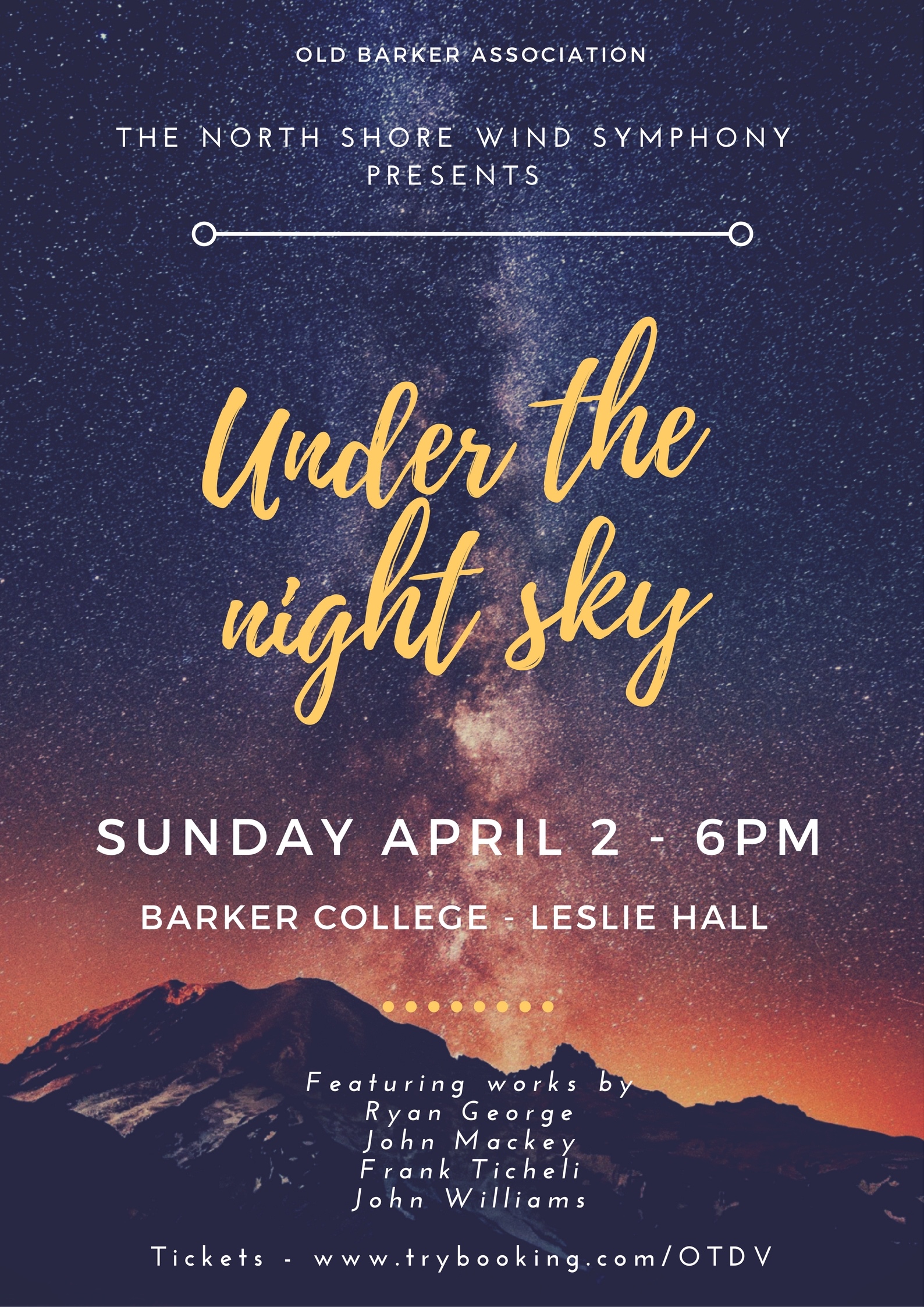 SUNDAY 2 APRIL 2017
NITRO
Frank Ticheli
FIREFLY
Ryan George
AURORA AWAKES
John Mackey
ADVENTURES ON EARTH
John Williams arr. Paul Lavender
SUNDAY 22 OCTOBER 2016
GANDALF
Johan De Meij

GIVE US THIS DAY
David Maslanka

CITY TREES
Michael Markowski
YEAR OF THE DRAGON
Philip Sparke
STAR WARS: MAIN TITLE
John Williams arr. Paul Lavender